With the Event Registration tool, you can easily create an online registration form for your event. Share your form so people can sign up and pay for their tickets in just a few simple steps. You can also pull a list of those attending to manage your registrations. Below are the steps to set up your event in Aplos and start generating signups.
Setting The Details Of Your Event
The first step to creating your event will be to set up the details. These will be items like your event date, time, location, etc. If you are creating your first event, you'll be able to get started by either clicking on the "Create an event to get started!" link or by clicking the green plus (+) button. Either of these options will take you to the Details tab of your event setup.
You will need to create an event Name, and you can add a Description of the event. The Description of Event field is an internal description and will not be viewable on your registration form.
The timezone will default to the timezone of the user creating the event. If the timezone should be different, you'll have a dropdown of other timezones you can choose from. If needed, you can also edit your user timezone in your Profile.
Start Date And End Date
The Start Date and Time and End Date and Time will be the date and time of your event. This date and time will default to the date and time that you start creating your event. Change these to the actual start and end date and time of your event.
Registration Date
The Registration Open Date and Registration Open Time specify when you will allow people to access the form so they can sign up and purchase tickets. Alternatively, the Registration Close Date and Time will be the date and time that signups and tickets will no longer be available.
Location
A location is required for your event. In the Location field, select the locations you have already created. If you have not created the location, select Add as New Location in the Location field. This will prompt you to create a new location. Enter the location name and address in the appropriate fields. Then click "Save & Close."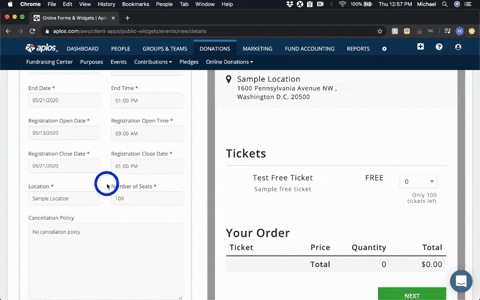 Number Of Seats
In the Details section, "Number of Seats" refers to the maximum number of individuals who can attend your event. This is not the number of tickets that can be purchased because you might sell one ticket to someone who is purchasing two seats. See the Tickets tab for how seats are used for each ticket type.
Cancellation Policy
The Cancellation Policy field allows you to give specifics about how cancellations are handled if someone cancels after signing up. This is simply a text field to describe the policy. It will not enforce any specific action if someone cancels.
Branding Your Event
Branding is available to customize the look and feel of your form. You can add an image, headline, and description of your event. Each of these fields will be viewable to registrants who access your form. If you add an image, the ideal size is 600×250 pixels. Resizing this image cannot be done after uploading it within the form builder, so if you notice after uploading that your image quality isn't ideal (i.e. the image is too pixilated or stretched), you will need to resize the image outside of Aplos and upload it again.
Adding An Image
To add an image, you can upload an image from your computer or choose one that has already been uploaded to your library. Simply click "Upload" or "Library," and select the image of your choosing. From there, confirm your selection. Once confirmed, the image will be placed on your event form and saved in your library if you chose to upload it.
Headline And Description
After selecting your image, give your event a headline. This headline will appear as the attention grabber of the form. Next, tell your registrants what they can expect at your event in the Detail Description field. This will be external on your form for visitors to see the information.
Social Media
If you'd like to share the URL of your form on social media, you can do so by completing the fields for Facebook, Twitter, or Instagram.
Tickets
Once you have completed your Branding, you can now create your different ticket types. You will have the option to add free tickets or paid tickets. Free tickets allow you to have a form for signups so you can set a maximum number of seats available and gather information on your attendees. Paid tickets will require the registrant to provide credit card or bank account information for payment. To start click "Add Ticket," and then select "Free Ticket" or "Paid Ticket."
Free Tickets
To start creating the free ticket option, assign a Ticket Name and Ticket Description. Both will be visible to visitors. Quantity refers to how many tickets of that type are available to purchase. The Seats Included Per Ticket field refers to how many individuals gain entry per ticket.
For example, if you're creating an event for a golf fundraiser, and you want to sell a ticket for a foursome, you might have 50 tickets available to sell, but each ticket purchased is for a group of four. In this case, your quantity will be 50, but your seat count will be four. That is because each ticket purchased allows entry for four individuals. Another example might be a table sponsor. You might have someone who purchases a table, and eight people can fit at a table. You'll put the number of tables that can be purchased as your quantity, but the seat count will be eight. Alternatively, if you'd like one ticket to allow entry for one person, you will enter the number of tickets available in the Quantity field, but the seat count will be one.
Your Start Date and Start Time and End Date and End Time refer to the period of time people are able to register for these tickets.
The Display Remaining setting is for the specific ticket you are creating. It will display the remaining tickets available for that specific ticket when a registrant visits your form.
The option to Collect Information Per Seat allows you to collect information about each attendee. This is for tickets with more than one seat.
Next, you can add fields to your form for your registrants to complete. You can make those optional or required. Below "Available Fields to Add," you'll see a list of fields. Click the checkboxes to add them, and they will move to the Current Custom Fields section. From there, you can decide to make that custom field a requirement before checking out.
Paid Tickets
For paid tickets, you will complete all of the same information, but you will have additional fields for Purchase Limit, Select a Purpose, and ticket details, such as Start Date and Start Time, End Date and End Time, Price of Ticket, and Fair Market Value. The Max Number of Tickets Purchasable is the number of tickets that a specific ticket can be purchased. The Purpose is the tracking of ticket sales. Each Purpose is tied to a specific income account and fund in your accounting. When a ticket is sold, the funds are automatically tracked in Aplos based on the Purpose chosen. To learn more about Purposes and how to create them check out our resource on Purposes in Aplos
The amount that you put in the Fair Market Value field will be the amount of the ticket price that is non-tax deductible. So, for example, if you have a ticket price of $75.00, but you're providing a meal to the attendee and your cost for that meal is $25.00, then the attendee will be able to claim $50.00 of the cost as a donation. This amount will show on their Contribution Statement.
Payment
You'll have the option to set up a couple of different payment options for people who are registering for your event. You can allow ACH(Bank withdrawals) or Credit Card/Debit Card payment. If they pay online, there is an option to allow them to pay their transaction fee. To get started with online payments, you will first want to create a WePay account first. If you have not done that yet, check out our WePay Setup Guide to begin. You will also have the option to allow registrants to pay later by check or cash.
Publish & Share
Publishing Your Registration Form
Now that you have everything dialed in, you can either Preview, Publish, Save, or Exit.  "Preview" will allow you to see the last saved version of your form. "Save" will save your work without updating your published form. "Publish" will update your form and make it active. Finally, "Exit" will leave your form without saving changes.
Keep in mind that you will only see the tickets that are available to purchase at this point. So, if you have and ticket option that is only available for a certain period of time, and that time has elapsed, then that ticket option will not show on the registration form. Finally, if you need to Unpublish your form for any reason, you will have that option if your form was published. This will make the form URL inactive.
Sharing Your Registration Form
Once your form is live, you can share it so that people can sign up. You can build a dynamic list using List Builder and send an email campaign to people on that list. In that email, include the link to your registration form so that people can click the link and sign up online. To grab your form URL, go to your Events form, and click the 3 dots under the Actions column.
Click Get URL, which will provide the pop-up below. When you click the URL link, a new tab in your browser will open so that you can copy the URL from there.
Purchasing Tickets
When someone accesses your form to register, they will be able to choose how many tickets they'd like to register for. The registrant will notice at the bottom of the form that as they register for tickets, the Your Order section of the form will reflect the quantity and amount due.
The registrant will click Next to move to the payment portion of the form. From this point, the tickets that they have selected will be held for 10 minutes. This allows the registrant to complete the process. If they do not complete it by the 10-minute time limit, then the tickets will be released so that they are available to anyone else registering for the event. There will be an alert with a timer showing how much time is available to complete the process. Once the process is complete, they will receive an email confirmation receipt.
Managing Registrants
You can view anyone who has signed up for your event from your Events. To do this, click the 3 dots under the Actions column, and click View Attendees.
From here, you will see a list of anyone who has signed up for your event and will be able to export that list to Excel to view more details.
Here is the link to a previously recorded webinar to show more about using Event Registration:
If you have any questions, please don't hesitate to contact our team at support@aplos.com!