Where To Find And View Your Subscription
Administrator users can view the organization's subscription details at any time. You'll go to Settings (⚙) in the top navigation and click Subscription.
Here you will see an overview of your current subscription. This includes:
Subscription expiration
Billing schedule
Number of users
Any advanced features that have been added
Transaction rates for online payment processing
Total subscription cost.
How To Change Your Subscription
To edit your subscription, click Change Subscription, found in the bottom footer of the page. This will take you to your Aplos Subscription Manager where you will be able to make changes to your subscription.
How To Change Your Billing Schedule
Your Aplos subscription can be paid on a monthly or annual schedule. You can toggle between these options using the radio buttons at the top of the page. Annual subscriptions receive a 10% discount. Your invoice date corresponds with the subscription expiration date listed on the main Subscription page.
How To Edit Your Contact Usage Tier
Your base subscription includes up to 500 contacts. The platform price increases $10 per month for each additional 1,000 contacts. In the description, you can see the number of contacts currently in your account. This includes all contacts.
Your subscription will automatically be updated to reflect the number of contacts you currently have in your Contact List once you go over your current usage limit. For example, upon adding your 501st contact, your usage level will be increased to 1,500 and $10 will be added to your subscription total.
If you have decreased your contact count in the Contact List (by merging duplicate contacts, for example), you will also need to return to this page and use the minus (-) button to adjust your usage limit back down to the appropriate level.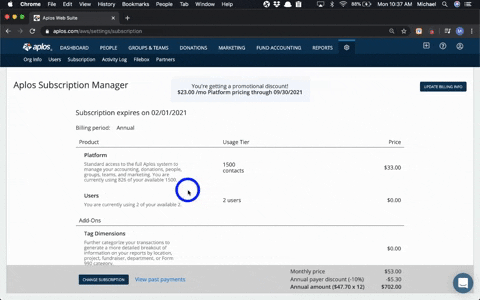 How To Change Your Users Usage Tier
All platform subscriptions include two users, but you have the option to add more users for $10 per month per user.
When adding another user from the User screen that would put you beyond your current usage limit, you will see a notification at the top of the page indicating that your subscription will be changed to reflect the addition.
If you would like to lower your user count, you will first need to either disable or delete the user(s) who no longer need access to the account from the Users page. Once they have been disabled or deleted, you can return to the Subscription screen and use the minus (-) button to lower the number of users on your subscription.
Custom Report Manager (CRM) users: Any single user can be assigned the custom report manager role upon creation at the standard $10 per month per user price. You can also add CRM users in bundles of 10 for $50 per month.
How To Add Or Remove Advanced Add-Ons And Features
All Aplos subscriptions include access to the Aplos platform, which allows you to manage your accounting, donations, people, groups, teams, and marketing. We also offer additional modules that you can add to your subscription for more advanced functionality.
The Advanced Accounting modules can be added à la carte, by clicking the plus (+) button next to each feature, or as a bundle, by clicking the plus (+) button next to Advanced Accounting Bundle.
Advanced Budgeting
Recurring Transactions
Tag Dimensions
Allocations
Fixed Assets
How to Remove Tags: You can add up to 5 different tag dimensions. These can be added/enabled from the Tags page, which will update your subscription. However, if you would like to remove a tag dimension, you will first disable the tag dimension from the Tags page and then return to the subscription page to remove them from your subscription.
Other available optional features include:
Bulk Texting
Address Verification
Text to Give
Click Save once you're done to apply any changes to your subscription.
How To Change Your Payment Information
On the main Subscription page, you will see an Update Billing Info button in the upper right. You can click on this to view or change the current billing information (if any). You can pay your subscription via ACH or by using a credit/debit card. Be sure to click Update to save your changes.
How To View Your Billing History
On your Subscription page, you will see a link to View Past Payments on the bottom left next to Change Subscription. You can click on View Past Payments to view all of your previously paid invoices.
How To Cancel
If you wish to cancel your subscription, you can do so by clicking Change Subscription at the bottom of your Subscription page. Scroll down to the bottom of the page and click Cancel Account. This will bring up a pop-up confirmation window, click Yes, cancel my account to proceed.
How To Manage Your Subscription If You Are In Contract
If you are currently in contract and need to make changes to your subscription (i.e., features, payment information, etc.) you can reach out to our team at support@aplos.com to be connected with an account executive who will be able to assist you.
Our support team is available Monday-Friday from 6am to 6pm PT, and we are happy to help! You can reach us by phone at 888-274-1316 or email us at support@aplos.com.